Make Mum Smile with Pretty Pearl Earrings
Posted by Pacific Pearls International on 12th Aug 2019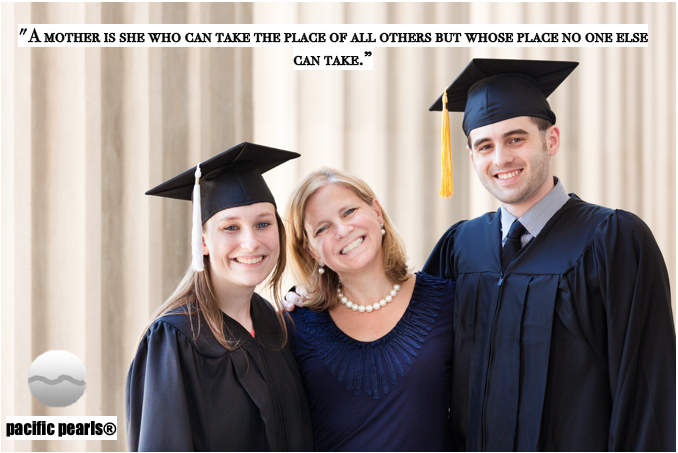 What
What makes the world go around? Love.
In a famous novel by Mitch Albom, "For One More Day", he said that "When you are looking at your mother, you are looking at the purest love you will ever know". At times, it is easy to forget what an important job mothers do for us. Their love is unconditional, and most importantly, their love is the foundation of our lives. They are the ones who give us life, sacrifice so much for us and also support us through all our hardships and victories. They are always there for us, and that's why, it doesn't need to be Mothers' Day to celebrate the love that they always give us.
Show her why she is the most important person in your life with a gift of nature, a pearl. Here at Pacific Pearls International, we have just the perfect gift for your mom, pearl earrings. Freshwater Pearls from China, Akoya from Japan, Black Pearls from Tahiti and the most precious pearls in the world, South Sea Pearls from Australia.
Pearls are a piece of art, they are rare, an enigma of nature, found only in the most pristine and untouched parts of the world. They are timeless, just like a mother's love.
At Pacific Pearls International, we strive to celebrate love. We see pearls as a symbol of endearment. Ancient Romans believed that pearls were made from the tears of God, and the person who wears pearls, would never be sad.
The pearl is the only organic gem that comes from a living host, and therefore, it is highly admired in various cultures around the world as the awe of something so gorgeous coming to us from a live being. Thus, ancient art depicts pearls as being a kindred representation of the majestic, awe inspiring of Life and Love.
Imagine how beautiful your mother would look with beautiful pearl earrings dangling from her ears, their colour bright and lustrous, gleaming. How happy she would feel wearing these glistening gems, and even happier knowing they are from her beloved child. It's always the little things in life that make all the difference, little surprises for someone you love, to remind them that you are always there for them and you want to make them happy. Pearls are a modest gem, but their beauty is awe-inspiring, and one of the only things that can match up to a mother's beauty.
Pearls are also the most unique gems since no two pearls are ever alike, and at Pacific Pearls International, we believe that the uniqueness of these glistening stones corresponds to the uniqueness of the bonds that we share with our mothers. Our mothers have seen and helped us through every hurdle in our lives, be it school, university, friendships, heartbreaks, finding love. They are our biggest supporter when we are happy, a harsh critic when necessary, and the fuzziest hug when we are sad. They have been there and lived through it all with us. Sometimes, we don't pay attention to how much we owe our achievements to them, and their unconditional love.
Why not try and express that to her with a beautiful pair of pearl earrings? A perfect gift to say "Thank You Mum".
Don't wait for an occasion, surprise her, and as she opens the seemingly modest box to find gorgeous earrings, watch her gleaming smile as she looks at those gorgeous pearl earrings.
Express your love to mum, and strengthen your bond with her, with pearls from Pacific Pearls International.
Shop Now at https://www.pacificpearls.com.au/
pacific pearls®
A Gem from the Ocean
A Natural Gift for True Love ...